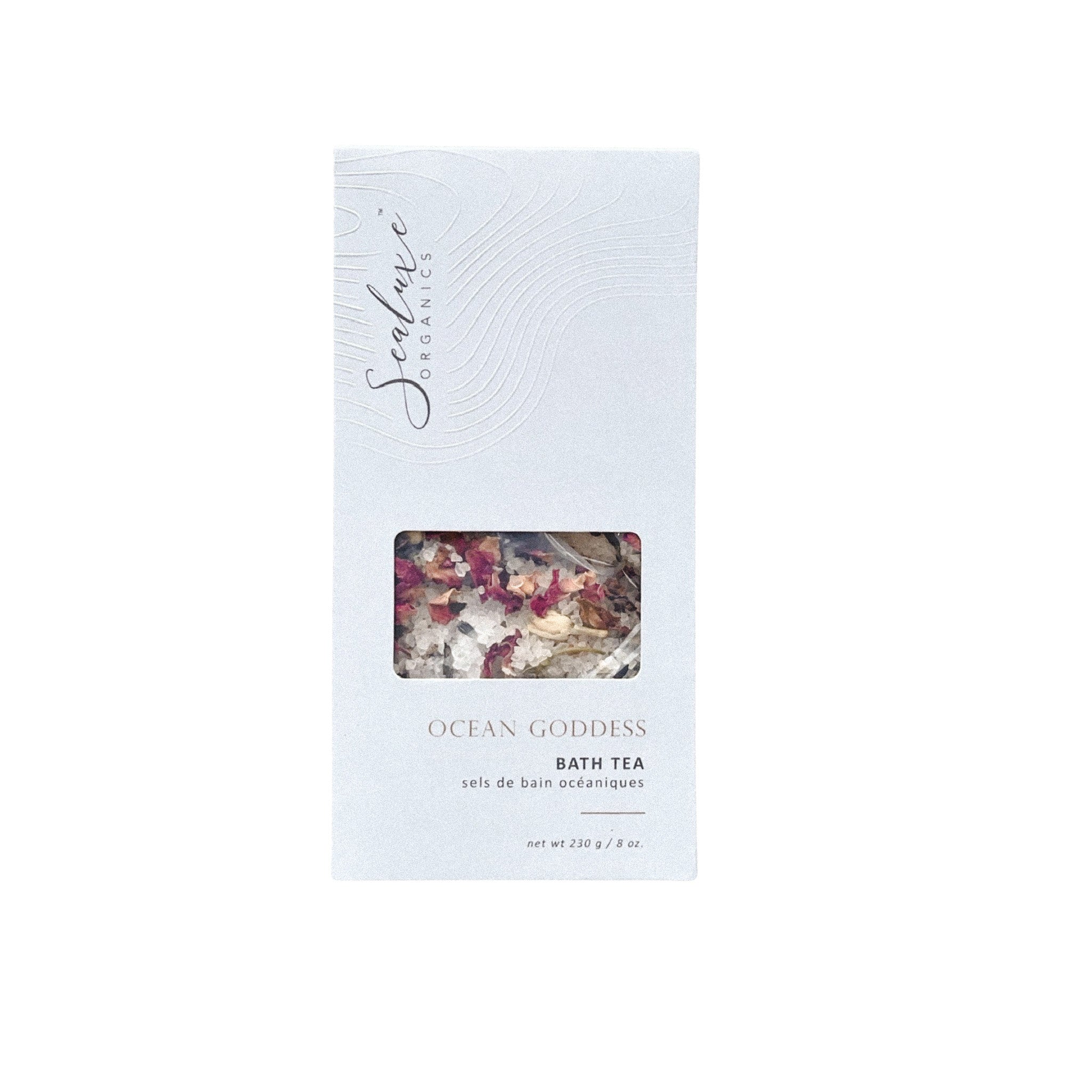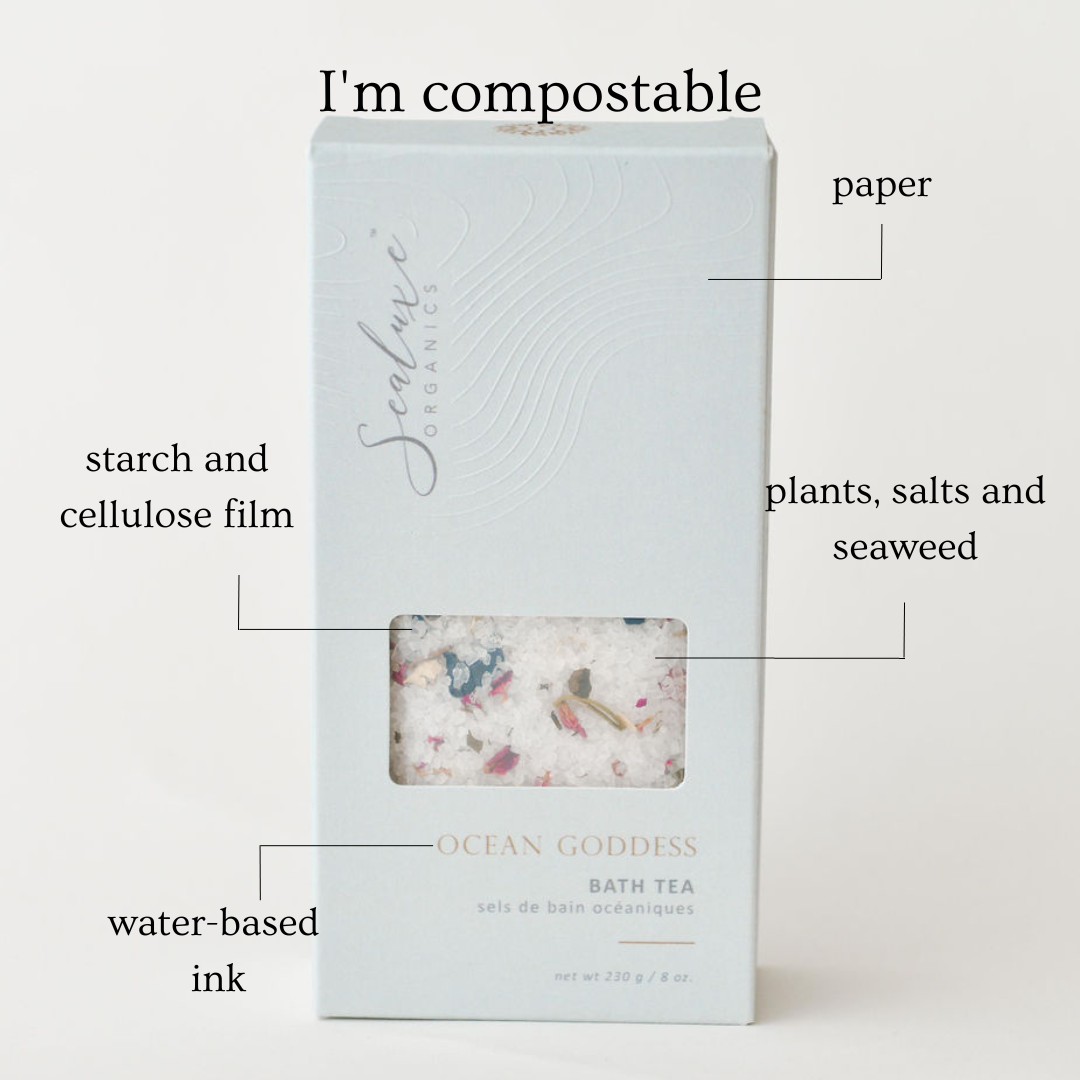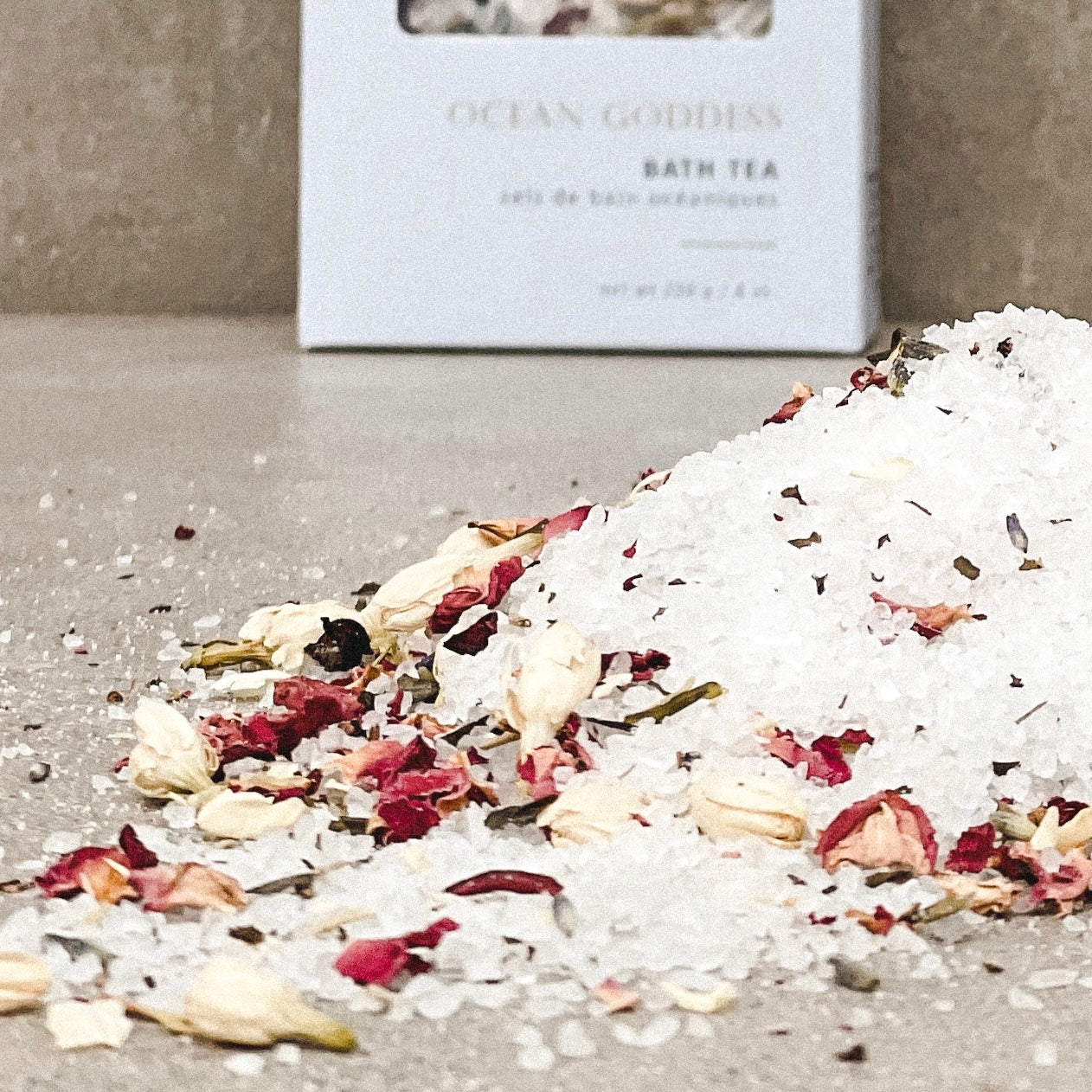 Description
Introducing our most popular product, the Ocean Goddess bath tea! Enriched with nourishing seaweeds and botanicals, this luxurious bath tea is scented with a relaxing blend of lavender and rosemary, providing the ultimate bathing experience.
Our Ocean Goddess bath tea is made with a carefully selected blend of natural botanicals, including rosemary, seaweed, rose petals, peppermint, hibiscus, and jasmine. Each ingredient works together to provide a soothing and refreshing bath experience.
Packaged in a 100% compostable package, our Ocean Goddess bath tea is not only good for you, but also for the environment. The included reusable muslin tea bag makes it easy to use, without the worry of botanicals clogging your drain or making a mess.
Simply fill the reusable tea bag with the bath tea, and drop it into your bathwater. The tea bag will slowly release the botanicals, infusing your bath with the heavenly scent of lavender and rosemary, while also moisturizing and nourishing your skin.
Indulge in the luxurious experience of our Ocean Goddess bath tea, and let the nourishing blend of seaweeds and botanicals transport you to a state of pure relaxation and rejuvenation.
Ingredients
jasmine, hibiscus, wakame, rosemary, rose petals, peppermint, sea salts 
Full Ingredients
SodiumChloride, Rosmarinus
officinalis, Rosa Damascena Flower, Undaria Pinnatifida, Jasminum Officinale Flower, Lavandula Angustifolia, Mentha Piperita, Lavandula Angustifolia Flower Oil, Vanilla Planifolia Fruit Extract
Scented with essential oils
Thalassotherapy
Repeatedly immersing yourself in the elements of Thalassotherapy, helps to restore your body's natural chemical balance - the balance that we all need to thrive and survive.
The natural minerals found in sea salts, such as magnesium potassium, and calcium, can work wonders for the body and mind. As you immerse yourself in the salt-infused water, the minerals are readily absorbed through the skin, aiding in relaxation and promoting a sense of calm.

Thalassotherapy with sea salts is renowned for its detoxifying properties, as the salts help draw out impurities and toxins from the body, leaving you feeling refreshed and revitalized. Additionally, the minerals present in sea salts can help improve circulation, stimulate cell regeneration, and nourish the skin, leading to a healthier, more radiant appearance. Embracing the therapeutic powers of sea salts through thalassotherapy can be a rejuvenating and uplifting experience for both body and soul.
Benefits
Each Ocean Goddess bath experience is a gift of self love. Sink into a tub of flowers and oceanic botanicals to cherish a moment tranquility and serenity.  Designed our bath tea line to deliver a spa-like atmosphere in the comfort of your home. Every natural ingredient has been hand blended and includedwith a purpose; helping you to relieve tired muscles, rejuvenate your body and soften your stress.
How to Use
Draw a hot bath and fill the included reusable muslin tea bag with the botanicals and salts. Drop it in the hot bath tub. Seaweeds like much hotter water to release their beneficial healing qualities. Once the water is cooled to your desired temperature, sink in and relax while the seaweeds, botanicals, sea salts and essential oils soothe your muscles and joints- allowing your body to rejuvenate and unwind.
Instead of using chemicals to preserve our products we make small batches fresh.
Instead of contributing to plastic pollution we use biodegradable, reusable or recycleable products.
Instead of using synthetic fragrance, we use essential oils, natural plant essence and flavours or nothing at all.
Instead of using colour dyes we use clays, plants and mica minerals to create our colours.