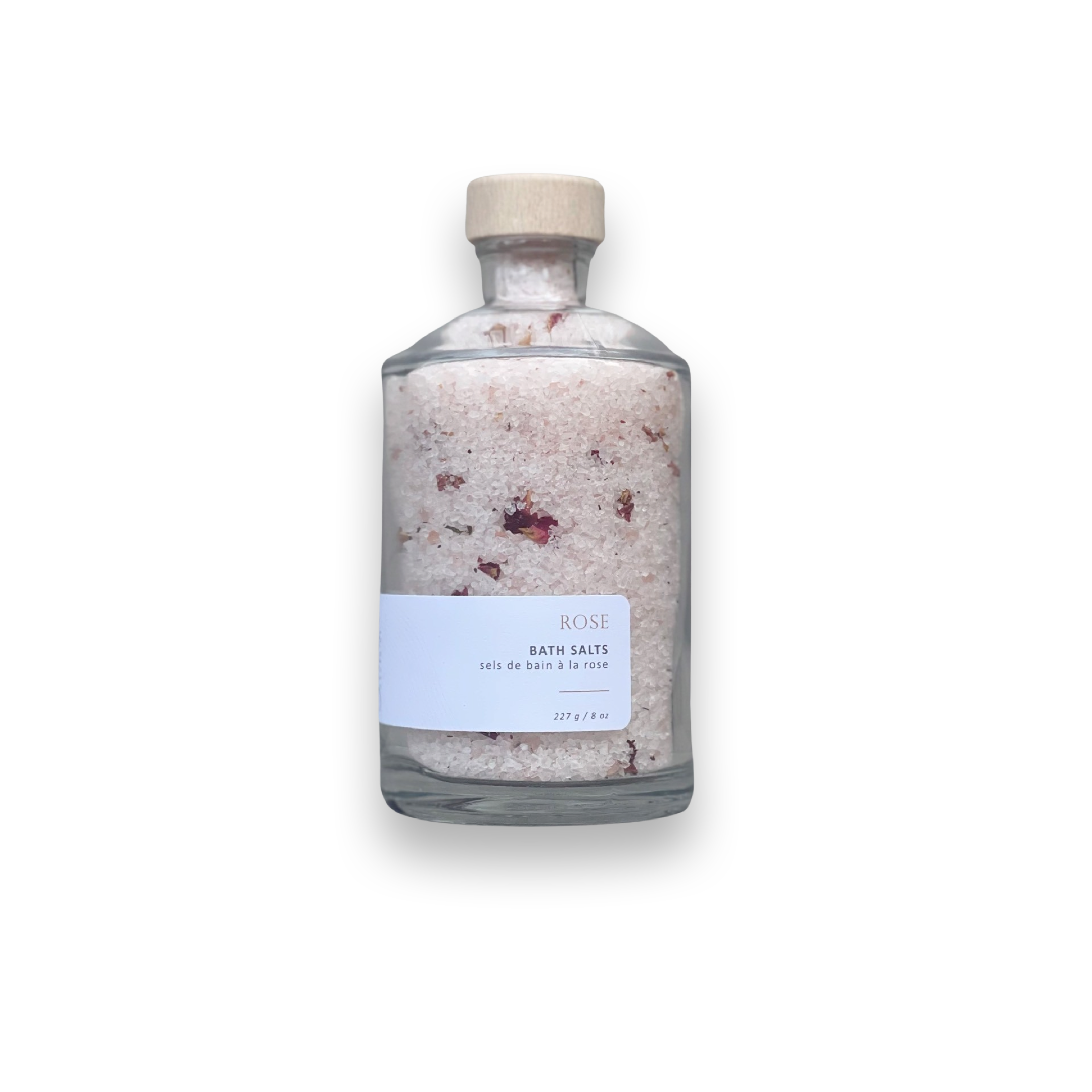 Description
Ingredients
Size
Indulge in the ultimate pampering experience with our luxurious Rose Bath Salts, presented in a stunning glass bottle that's as beautiful as it is functional. Not only will the delicate fragrance of rose petals fill your bathroom, but you can also reuse the elegant bottle as a decorative piece long after the bath salts are gone.
Our Rose Bath Salts are made with the highest quality ingredients, including premium Pacific sea salt, Himalayan pink salt, and natural rose petals. Pacific salt helps to relax muscles and soothe aches and pains, while Himalayan pink salt detoxifies the body and improves skin hydration. The natural rose petals provide a gentle exfoliation, leaving your skin soft, smooth, and rejuvenated.
The beautiful glass bottle is not only an eco-friendly choice, but it also makes a stunning decorative piece for your bathroom. Refill it with our bath salts or use it to store your favorite bath products. Our Rose Bath Salts are the perfect way to indulge in a little self-care and make a beautiful addition to any bathroom.
Rose petals, sea salts, rose clay, rose essential oil
Thalassotherapy
Ocean elements used to nurture wellness and beauty. Repeatedly immersing yourself in the elements of Thalassotherapy, helps to restore your body's natural chemical balance - the balance that we all need to thrive and survive.
-
When you soak your body in water as salty as the sea it allows you to absorb a concentrated amount of vital vitamins, nutrients and amino acids that gently feed your skin. The niacin improves blood circulation, bringing nutrients and oxygen quickly to skin and muscle cells in need of repair. The amino acids aid in hydration, help with inflammation, redness and skin irritations. The iodine encourages detox of heavy metals and chemicals. The antioxidants help with skin condition, supports collagen and promotes healthy skin elasticity. Bathing in all of this goodness promotes healthy self-care
rituals.
How to Use
To use, simply add a handful of our Rose bath salts to warm running bath water, and allow the natural minerals to dissolve and infuse your bath with the heavenly scent of Rose Geranium. Our Rose bath salts are perfect for those looking for a natural and relaxing bath experience that also provides the benefits of mineral-rich sea salt.
Instead of using chemicals to preserve our products we make small batches fresh.
Instead of contributing to plastic pollution we use biodegradable, reusable or recycleable products.
Instead of using synthetic fragrance, we use essential oils, natural plant essence and flavours or nothing at all.
Instead of using colour dyes we use clays, plants and mica minerals to create our colours.